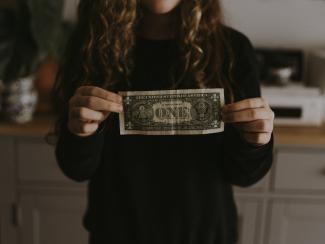 How to Nurture Financially Savvy Kids
In 1988, financial planner and best-selling author Venita Van Caspel wrote in her bestselling book Financial Dynamics for the 1990s:
"Our educational system continues to send forth our young with so little information about financial matters that they are like time bombs about to destroy their own and their families' economic futures.  We equip them to earn good incomes and to live the good life, but we fail miserably as a nation to prepare them to know what to do with the money they earn."
Now, more than three decades later, the implications of Van Caspel's sobering commentary are more serious than ever before.  With the level of consumer debt skyrocketing and the cost of housing, education, and health care increasing at double digit rates, younger generations are facing unprecedented obstacles to achieving financial security.  In addition to these steadily climbing trends, we must now factor in unanticipated economic challenges brought on by the sudden onset of the COVID-19 Pandemic.  
Therefore, helping the young people we care about to learn effective money management skills, and to adopt good financial habits and attitudes, is more important than ever.  The first and most important step we must take is to examine our own money beliefs and behaviors, and then take action to get our financial lives in order.  Nothing is more effective in guiding the younger generation than providing a consistent and powerful role model.
Next, we must stay alert for teachable moments to share our financial expertise and wisdom. Very few topics affect us on a day-to-day basis like money, so there are endless opportunities to provide mini financial lessons via word and example. 
Lastly, commit to increasing our knowledge and awareness of ways we can encourage and equip the young people in our lives to lay the foundation for a successful and satisfying financial life.  Here are two great resources to help guide us in this mission:  
Make Your Kid a Money Genius (Even if You're Not):  Best-selling financial author Beth Kobliner provides parents with a well-grounded guide to fostering a wise financial mindset and practical money skills throughout childhood and into young adulthood. 
The Opposite of Spoiled: Raising Kids Who are Grounded, Generous, and Smart about Money:  Author Ron Lieber believes that good parenting includes talking about money—a lot!  "When parents avoid these conversations, they lose a tremendous opportunity—not just to model important financial behaviors, but also to imprint lessons about what their family cares about most."
Reprinted by permission of Money Quotient, Inc.